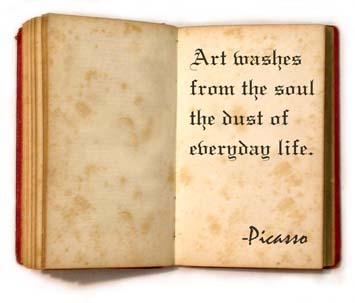 Welcome to my art gallery where the emphasis is on whimsical!
Sometimes, I look at art in a professional gallery, and say to myself, "I'll never be that good." And other times I look at stuff in a gallery and say to someone else, "Somebody got paid to do that?"
I used to hide my art from all but a few immediate family members. Thanks to encouragement from friends, I concluded there was no reason to continue hiding the artist in me, and put this web site online in 2005.
I made a few additions over the next several years, but no major site overhauls until 2015. Then the site got an overhaul, and expansion to include sections for model railroading and gardening. In addition, web site design practice now strives for mobile friendliness, so the site overhaul included reformatting to be "mobile friendly".
I have found that sharing my art with others motivates me to create even more art. To that end, I thank you for visiting my online art gallery.
-- Jim
Enter at your own risk...
More of my favorite quotes from Pablo Picasso...
- Computers are useless. They can only give you answers.
- All children are artists. The problem is how to remain an artist once he grows up.
- I am always doing that which I cannot do, in order that I may learn how to do it.
- There is no abstract art. You must always start with something. Afterward you can remove all traces of reality.
- You have to have an idea of what you are going to do, but it should be a vague idea.